Most Popular CMS Platforms to Use for 2023 According to Claritus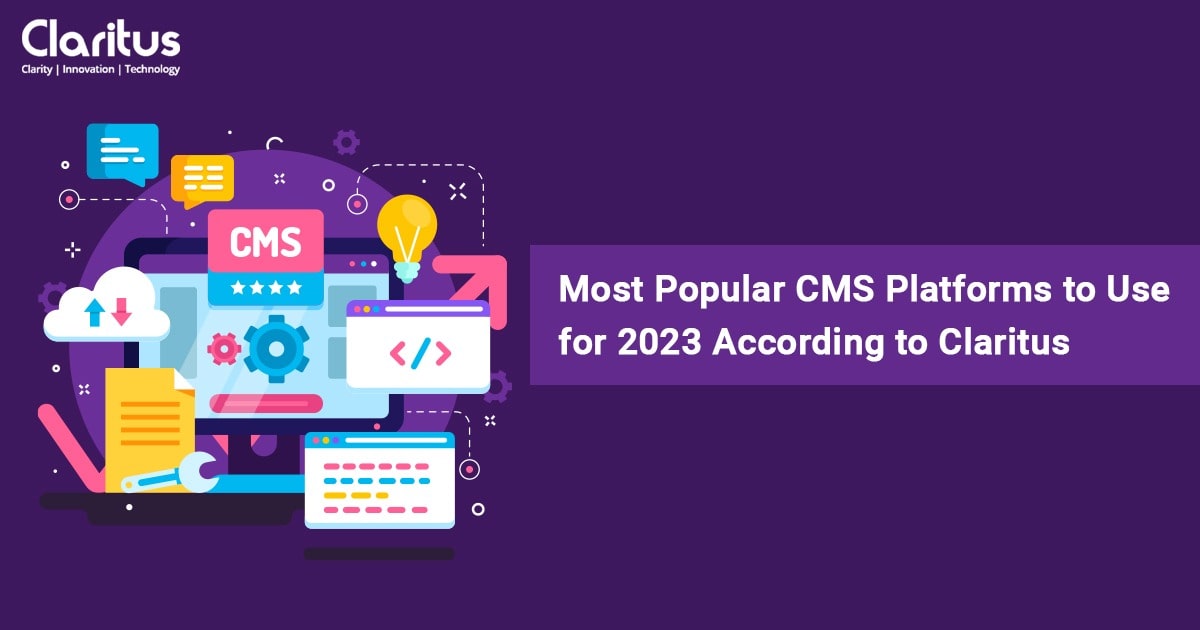 Defining It
CMS, which is acronym for Content Management System is a set of related programmes and a software application for generating and handling digital content. With the help of CMS, clients can build websites without requiring to create every page from scratch using code or without any specialized technical proficiency. Today, CMS is utilized by approximately 64 million active websites. It assists you in building your own system for development of web pages, storing images and various other tasks. It also helps you by managing the basic infrastructure jobs, allowing you to remain engrossed with more important functions of the website.
Choosing the right one for 2022
The ones that offer the crucial and essential functions for their clientele are recognized as the best CMSs. The best platform should have all these too.
1. Find out if the platform is affordable, as far as you are concerned.
2. The CMS platform that you select should be conducive to your skill level. Keep in mind that, some of the platforms have very steep learning curves with regards to others.
3. It is important to consider the scalability of the platform. You should check out the plugins and extensions to know whether you will be able to cultivate and expand your website by utilizing the platform.
Some top cms platforms to Use for 2022
The list includes both commercial (paid) and open source (free) platforms.
1. WordPress
Powering more than 37% of all websites on the internet, it's the world's most admired CMS platform. It's a free and open sourced one. It started out as a blogging platform but eventually became a full CMS. You can utilize it to create ecommerce stores, forums, membership sites and more. You get more than 55000 free plugins to extend and expand your website.
2. Drupal
This is another open source CMS platform and also very popular. It runs and steers many major brands including universities. It has both free and paid plans. If you want to build a very customized website which can accommodate a lot of data then this is the ideal one. It gives you a great deal of control with its built-in user access system and you can make your site look like the way you want to, by using the available themes.
3. Joomla
This is also open source software which is also quite sought-after and free. It contains a lot of template options and extensions which assist you to create a website that properly serves your needs. It gives you many single click web hosting installations. However this CMS platform is only meant for skilled and competent web creators and developers which is an aspect to take note of.
4. Ghost
This CMS Platform is specifically meant for publishing and blogging. It has some salient features exclusively required by media publishers and bloggers. Ghost is also a headless CMS, which signifies that its contents can not only be seen on a website but also on a mobile app or any digital sign as well. Although free, payment is required for a domain name or web hosting. It ranges from $36 to $249 a month.
5. Shopify
This is an all-in-one ecommerce platform. It's one of the most popular ways to build an ecommerce store. One advantage with Shopify is that you are not required to manage backups and updates or install software. You also don't need to buy hosting. Additionally, this CMS is very simple and it's drag-and-drop interface supports physical stores as well as online stores. Prices range from $29 to $299 a month.
6.BigCommerce
This is another all-in-one platform and perfect for developers who are without much experience. This CMS hosts a site all by itself and manages backups and site security as well. If required, you can mobilize other CMS options together with BigCommerce. For Instance, WordPress can be harnessed with BigCommerce to obtain the best out of both. Price starts from $30 a month.
7. HubSpot CMS
This platform is meant for business owners and marketers who want to connect with the clients. It's created over HubSpot's CRM platform. The CMS is perfect for growing businesses as well as organizations desiring an all-in-one platform. Customization of site can be done by developers by delving into the code while a drag-and –drop editor helps non-technical users. With three pricing tiers, it starts from $25 per month.
8. Magento
This is an ecommerce platform too. It aids online businesses with extraordinary workability and command over looks, content and functionality of their ecommerce outlet. However, it requires some technical proficiency to set it up. Although the open source version is free, it's quite expensive if Magento sets things up for you, with price starting at $2000 plus per month.
Conclusion
A few CMSs have been highlighted with many more available with their pros and cons. To create your site you have to pick the one that is most conducive to the essential requirements of your business.