Web Development Trends for 2023 and Beyond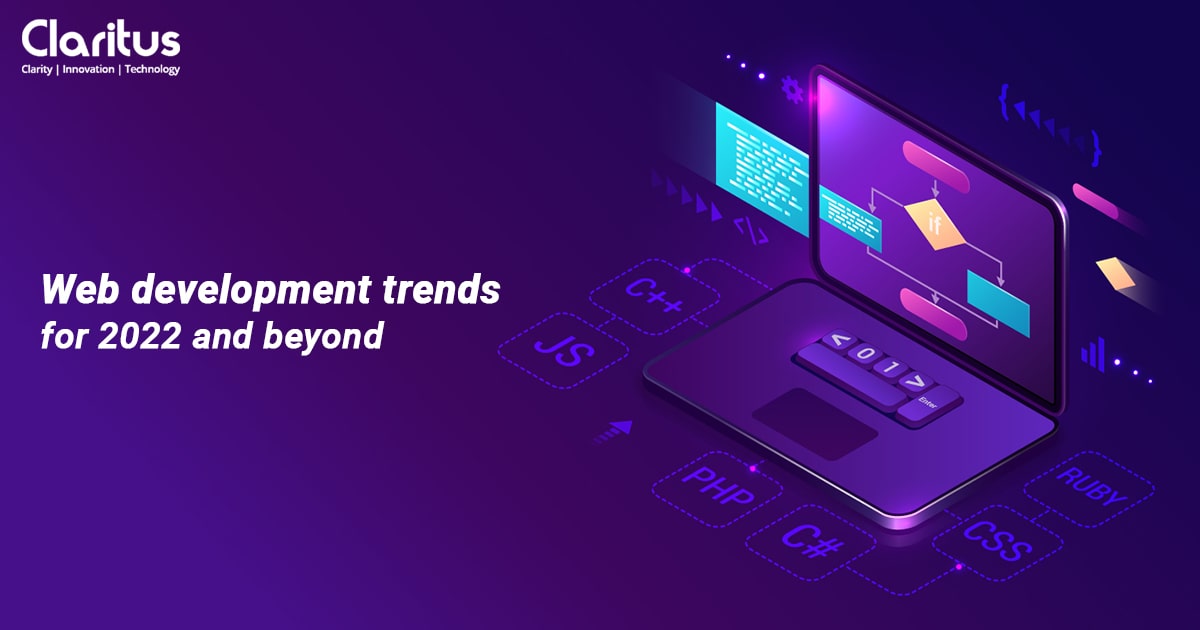 The web development world is unfolding rapidly and therefore it has become mandatory to keep pace with the modern and up to date trends of web development for businesses to remain competitive and functional. On top of that, the effect of the pandemic was massive and extraordinary which brought about a humongous alteration in every sphere of life. The web development domain was impacted too and nothing seems to be the same as before.
Under the circumstances, if you want to thrive and get ahead with a robust web product of your own you should also focus on upskilling yourself. You also need to identify the correct trends conducive to the growth of your business otherwise it may lead to disastrous consequences with regard to user experience and website performance. So, building and maintaining your website conforming to latest trends are a surefire way to prosper and fly high in this environment.
Roundup of some trends in 2022
1. Progressive Web Application (PWA)
These days, mobile phone centric websites and apps are quite common. Progressive wave applications work like native mobile apps in a similar fashion. This technology is highly advantageous in this regard and offers a very convenient and pleasant experience for the end users. This application doesn't require to be downloaded from an app store, amasses 50% more user engagement rate and has a 33% reduced cost of maintenance.
2. Voice Search
This is a technology that solves queries and saves time. Voice Search Optimization has fused perfectly with our daily routine through Google's Assistant, Amazon's Alexa and Apple's Siri. It has also made huge strides with respect to the latest web development styles. So, tech conglomerates like Google, Apple and Amazon have introduced smart speakers, globally, the market for which is supposed to reach to 163 million units this year. Speech recognition and AI have made this possible. You can also improve your SEO rankings, increase reachability and refine user experience with this technology.
3. Single Page Application(SPA)
This is one of the most noteworthy current trends in web development. Utilizing HTML 5 and AJAX, an SPA loads a single page in a visitor's browser and actively and synchronously updates content as required, without refreshing the page. Apps like Gmail, Twitter and Facebook are all instances of SPAs. Due to the AngularJS framework an SPA is cost efficient and simple to build. It does not eat up much space on a server and offers information to the users systematically, on a single page without any requirement for maneuvering.
4. AI Chatbots
Chatbots are a perfect instance of utilization of AI to captivate and cultivate leads, only to convert them finally into customers. They are like personal assistants to the visitors on your website and apps, to lead the way through it. Since you are not available personally to answer queries and provide solutions all the time, they perform the task efficiently on your behalf. With the passage of time they will become more advanced, and meet the needs of and match the manners and practices of clients. They will achieve this by exploiting the powers of machine learning, information extraction techniques and natural language processing.
5. Motion UI
This is a design method that aids you in creating a dynamic website which garners maximum user attention. A bewitching and enticing option of 2022 and beyond, it offers ease of use, high interactiveness, adaptability and openness with CSS, HTML and JavaScript. Motion UI has become extremely popular because together with swift, mobile centric digital experiences, the clients encounter a richer and more reciprocative affair. With the help of this front end framework you can build fully responsive mobile applications and websites and make an element bounce, spin and slide etc.
6. Internet of Things(IoT)
This outstanding tech trend is sure to transform the future of web development. It's supposed to usher in a new generation of software product development and web development services by incorporating massive changes in the field. The technology helps to connect various devices to the phone with continuous, seamless and ongoing data transfer, which enhances communication. Cameras, signaling devices and sensors can also be add to the network at will. Eventually it will help to solve problems of the clientele more efficiently in the future.
To summarize
These are some of the current cutting edge web development trends of 2022 and beyond, that can revamp the manner in which companies communicate with their clientele. Each has the capability to enhance revenue generation as well as customer engagement.