Why should Azure be part of your business optimization strategy?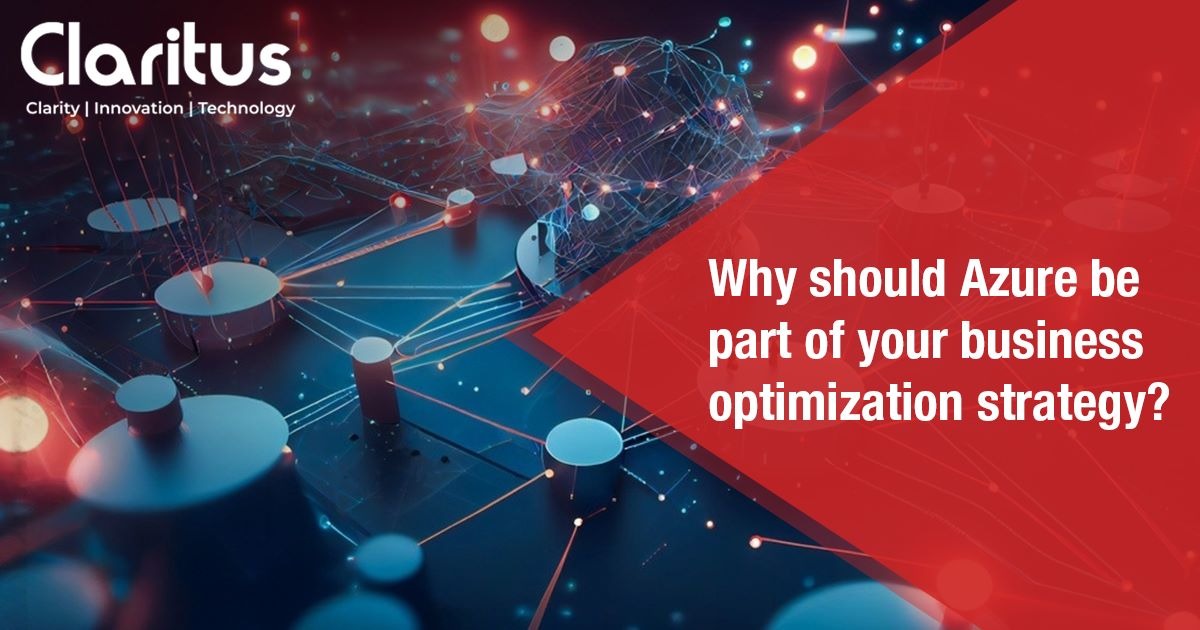 Microsoft Azure is a public cloud where all resources including software, hardware and other buttressing and aiding infrastructure are possessed and managed by the organization itself. These are shared among multiple companies or cloud "tenants". The services are accessed with the help of a web browser. It appears that leaders are committed to business optimization, and the organizations are readily adopting and accepting the digital prowess of a cloud platform like Azure to flourish in uncertain times.
According to IT research and consultancy company Gartner, it is anticipated that by 2024 almost all organizations with legacy applications will shift to the cloud for business optimization to become more cost-efficient. Among other features, a public cloud also provides benefits like flexibility, agility, scalability and ease of administration.
What to expect?
Efficiency with AI and Automation
Customer engagement and sales can be enhanced with Dynamics 365 and Viva Sales. Integrating automation and AI into Dynamics 365 assists professionals to focus on what counts most and is of highest priority, in other words, creation of great experience for the clientele. Conversation intelligence capacity permits sales communication in real time and sharing of sales literature with clients.
Microsoft Syntex blends cutting-edge functionalities covering Microsoft cloud, Microsoft 365, Azure and Microsoft Purview. It automatically reads, tags and indexes vast amount of text and subject matter and links them to relevant places in applications, search or even as reusable information.
Azure applied AI and cognitive services help to seamlessly embed AI into business apps. Azure open AI service now also permits access to DALL-E.2 which accepts text or natural language description as input and constructs and delivers images as output, mostly used in caption matching and photorealism. It also helps businesses in brainstorming, swiftly responding to marketing opportunities, while creating and perfecting visual assets.
Revitalizing and refreshing the workforce
Business optimization also means enabling to digitally connect a distributed workforce. Microsoft 365 app has great productivity tools which bring about new ways of finding, creating and sharing content, all from one location. The app will be made available in mobile and Windows from January 2023.
Another new product to address the special challenges of connected workplace and hybrid work is Microsoft Places, also slated to be launched in 2023. The platform will offer solutions for coordinating between places of work, contemporizing and smartening-up office with cutting-edge infotech and optimizing the office for varying as well as fluctuating requirements.
The capabilities of Microsoft Viva help organizations to deliver a fresh employee experience revolving around the modern work environment. Team leaders and managers can now feel the pulse of their teams for accurate input. Irrespective of their locations, an integrated communications management and publishing tool assists leaders to interact with employees more effectively.
An all-inclusive and exhaustive platform
Applications can be modernized with negligible alterations in code while the speed of development is enhanced. Azure, with its platform services helps to innovate more and incorporate more value into a business. This fully managed service aids in business optimization by enabling the developers to concern themselves more with app creativeness and inventiveness. Everything else, including managing, configuring and updating etc, is looked after by Microsoft Azure.
Low code can be utilized as an exclusive tool for the developers of today. Umpteen businesses have done more with less and created mission critical apps, empowered by Power Platform. Streamlining low code governance in an organization is also a part of business optimization. A spanking new capability called Managed Environments offers enhanced control on sharing limits, reliability and security validations.
Protection and comprehensive security
Businesses require extensive security, which permits them to protect more without increasing the expenses. Clients can experience an uncomplicated approach to security with Microsoft Security's multi-cloud solutions and save up to 60% in cost. Security can be built from the start. Microsoft Defender and Microsoft Defender Cloud Security Posture Management (CSPM) are available for the clientele to seamlessly incorporate security from the development stage to runtime and bolster threat protection spanning multi-cloud environments.
Final Thoughts
It is quite evident that Azure helps in business optimization of existing operations and establishments, and facilitates holding on to cloud-native technologies very economically. It really helps by optimizing and enhancing business process management.