How to Create a Successful Real Estate Mobile App for Your Needs?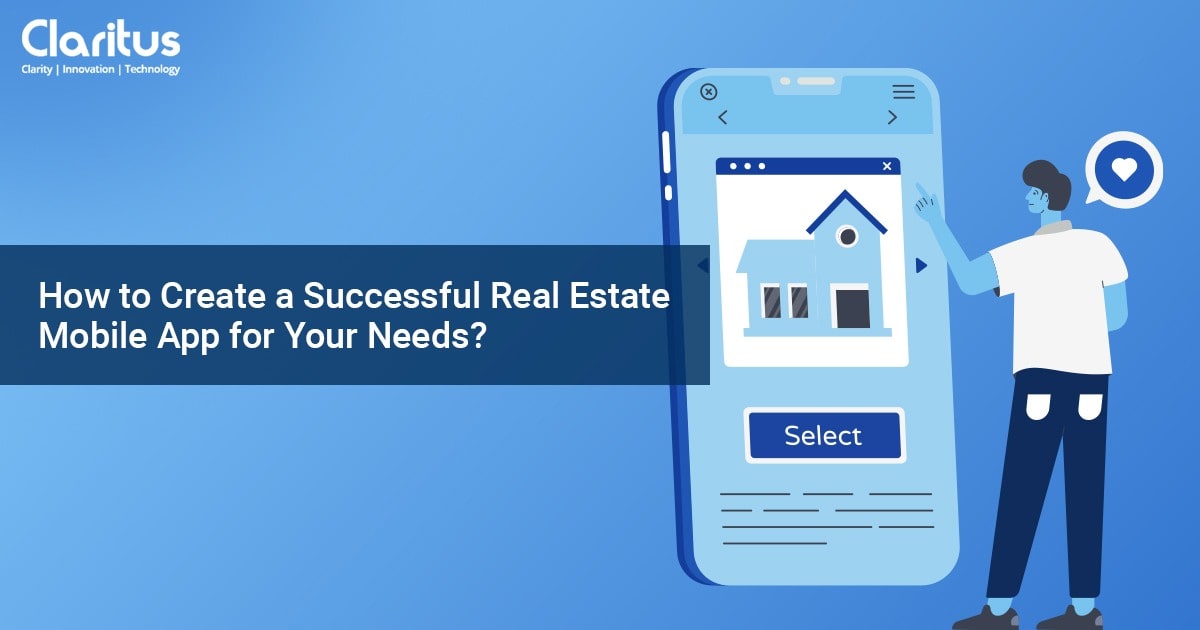 It's quite evident that every one out of four people makes use of a real estate mobile app to search for, purchase or sell properties online. Real estate has for a very long time been a profitable business.
The advent of mobile phones has lifted its prominence to the next level. The real estate market is evolving at an extremely fast pace with no room for any error. Online search for real estate has hit a record high and there is a fierce competition.
The needs of the clientele have to be satisfied or else a competition is lost. For an agent or realtor, a real estate mobile app is actually a weapon against fellow contenders or rival agents. A marketable real estate app should effectively address the desires, preferences and requirements of the users, which will assist the real estate organization to stay ahead in the marketplace.
Namely, there are three kinds of users in this business, buyers, sellers and realtors. Each of them should be benefitted by utilizing the mobile app.
Some indispensable real estate mobile app features:
1. User Onboarding:
User onboarding is the process of introducing new users to a product or service and helping them get started using it. In the context of a real estate app, user onboarding is especially important because the app may have a range of complex features and tools that users need to understand in order to make the most of it.
2. Maps:
Just like maps, users must be able to identify and know an area satisfactorily with its help. Without being physically present, an interested person can preview the location assisted by a Google Maps API. Together with locations, data and statistics with regard to exclusive properties can also be displayed by integrating maps in the app.
3. Profiles (Sellers, Users and Agents):
Separate profiles should be available for different sets of users. A customer should be able to get hold of the home listings, enquire, seek information and view individual listings in detail. A realtor, however, must be able to see the list of potential customers, schedules, advertisement opportunities and his own listings etc. Aids like messaging and maps should be accessible by any user.
4. Database and Listings:
Integrated databases are necessary for a real estate app since they effectively help to find property. Property listing is one more essential characteristic of the real estate app. Users interested in renting and selling their properties should be conveniently able to add their listings. As the property listing keeps growing, a bigger database will be required. A database server should have enough flexibility to afford a scale-up function when required, since more users eventually necessitate more listings.
5. Neighborhood Information:
Providing neighborhood information in a real estate app can help users make more informed decisions when searching for a property. By providing comprehensive neighborhood information like schools, transportation, demographics, walkability etc. in a real estate app, you can help users evaluate the suitability of a property based on their unique needs and preferences. Additionally, providing this information can help build trust with users and establish your app as a reliable source of information about real estate.
6. Favorites:
In a real estate app, the "Favorites" feature is an important tool for users that helps them save and organize properties that they are interested in and simplifies the process of finding their dream home.
7. Virtual tours in 3D:
This creates enticing listings for would-be buyers of real estate. A virtual walkthrough is an incredible technique which offers prospective customers a real-time impression of the property they want for themselves. It furnishes a detailed layout of the property while the customer is able to view it from all possible angles without a physical presence at the site.
8. AI Voice Assistant:
Integrating an AI voice assistant into a real estate app can help streamline the property search process and provide users with a convenient and hands-free way to access information and perform tasks related to buying or renting a property. To ensure that the AI voice assistant is effective and easy to use, it should be designed to understand natural language and be able to respond in a conversational manner. Additionally, it should be able to learn from user interactions to improve its accuracy and effectiveness over time.
9. AI Chatbot:
With this feature the would-be clientele can have answers to queries promptly, together with online chat. Commonly asked questions generate automatic answers. Users also discover more about a certain subject without hunting for it all over the application.
10. Categories and Filters:
Finding an appropriate or perfectly suitable property is the most awkward part of looking for real estate online. Categories and filters help in simplifying the process of searching. While developing a real estate mobile app, the features that are desired by the clients must be identified and then incorporated here. These are advanced search options meant for the users.
11. Push Notifications:
Push notifications can be a powerful tool for engaging with users and keeping them informed about new listings, price changes, and other important updates in a real estate app, which ultimately improves their overall experience. However, it's important to be mindful of user preferences and ensure that the notifications are not intrusive or overwhelming.
12. Property Cost Calculators:
A property cost calculator is a valuable tool that helps users make informed decisions about buying a property. The calculator can help users better understand the costs associated with buying a property, and can provide a realistic estimate of their monthly mortgage payments.
13. Analytics:
Analytics is conventionally one of the most noteworthy characteristics of any mobile application. It informs about how the app is functioning and the actions that need to be taken to enhance performance. It also delivers valuable information about users and their in-app exploits, for instance, the duration for which a user stayed in a certain screen. Fruitful and worthwhile app decisions can be arrived at, with such data.
14. Calendar:
This is a simple feature, which can be quite helpful for buyers as well as realtors. Buyers can schedule an appointment with the seller or agent after checking the dates available. The calendar can send reminders to both sides at the right time.
15. CRM and MLS Integration:
Customer Relationship Management (CRM) helps by permitting management of communications with customers and leads conveniently and without much effort. Agents and users can also access a private database of countless property listings called Multiple Listing Service (MLS) for a fee, which assists professionals to import and share many real estates offers on the platform.
Finally, the cost:
The cost to develop the mobile app when outsourced, is around $50 to $250 per hour in North America, while multiple low-cost options are available in India. It depends on features set, design, device and technology(iOS/Android) and rate per hour of the organization developing it.