Top 6 Reasons for Using Microsoft Power Apps in Your Business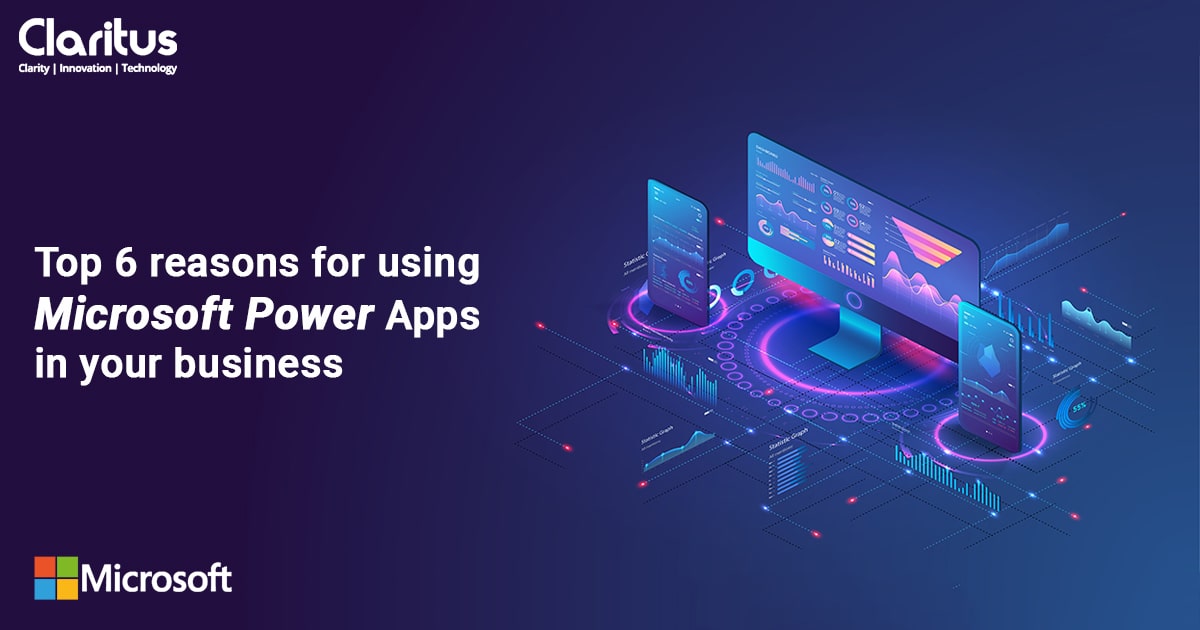 Introduction To Microsoft Power Apps
Microsoft Power Apps, a low-code development platform with myriad forms of apps, services and a data platform for helping organizations to create their own custom applications.
Although this great tool is many a time overlooked by software companies, it allows professionals to create applications very fast, since code doesn't need to be written by line.
It has a visual approach to development of software and is easy to use and highly customizable.
Even non-developers without any experience in coding, can build uncomplicated but professional custom solutions.
With the help of Power Apps, businesses can create APIs and custom apps which can have standards at par with those driving the internet.
It solves business problems with regards to field sales enablement, inspections, prospect to cash, marketing perspectives and more.
Around 100000 businesses are utilizing PowerApps to create custom business apps and solutions and these apps help to perform their day to day tasks efficiently and in a user friendly manner.
The Top benefits of Microsoft Power Apps
1. Unique business challenges solved
Whether it's a specific challenge or a special need or an idea for a novel solution, you can create an app through Power Apps to take care of it. From tracking employee expenses, automating communications, integrating AI functionality and running data analytics, everything can be managed conveniently through Power Apps.
2. You can save company expenses
It's very cost-effective. It provides a lot of ready to use connections, readymade templates, and as a result, lessens the time and toil needed to build an app. A study by Forrester, a leading global market research organization, disclosed that businesses lowered their app development expenses by more than 70% using PowerApps to create their custom applications.
3. Business transformation accelerated
One huge advantage of Power Apps is its fast pace. There is no need to wait. Development and deployment of an app through Power Apps is much swifter vis-a-vis traditional development techniques. It has an instinctive drag and drop interface with templates which are pre-designed. Therefore, it's very convenient to create an interface or connect data among other things, in just a few weeks.
4. Power Apps has the capability to blend with camera enabled gadgets
So, if required, organizations can create apps which have power to process images. As a result, healthcare providers, retailers et al. can take photos of merchandizes and other goods in the course of investigations with a cellphone camera and data garnered from its GPS. The platform used to build apps that take photos of people for sending the images to a facial recognition system.
5. For sales and marketing team
Sales and marketing personnel who require filling up data sheets and ordering forms outside their office premises can effectively utilize Power Apps together with a subscription to Microsoft Dynamics 365. This consolidation will eventually allow clientele and users to withdraw or insert data into the CRM with simple forms.
6. Security is very high
These workflows and applications merge with Microsoft security solutions like Azure Active Directory and Common Data Services, so you get a role based security model. Permissions can be regulated at applications and data levels allowing end-users to view only whatever is appropriate for them. And many businesses needed to adhere to stringent restrictions after Covid-19 took hold of the human race.
Many a time, they performed temperature scans, vaccination survey and other tests.
Power Apps empowered them to build apps for mobile gadgets to trace and monitor temperature scans, visitor counts and appointments to rapidly and competently address these restrictions.